How to complain
The Bacs complaints procedure for Bacs Direct Credit
If you wish to complain about a payment that has not been received, you should first ensure that the organisation paying you sent it via Bacs. You should also ask them for the sort code and account number they quoted on the payment, and the date they requested it to be credited to your account. Next contact your payment service provider (PSP) to ensure that they haven't received the payment. They may require additional information, including details of the remitting organisation and their sort code and account number. If your PSP is still unable to locate the payment you should contact the remitting organisation as soon as possible so they can initiate an investigation.
If after following the above, you still wish to complain.
How to complain
If the complaint relates to an issue about a service, or product and not an error with the remittance of a payment, you should refer this to the organisation providing the service or goods. They will be able to provide you with more information about their complaints process
If the complaint relates to an error with receipt of a payment by Bacs Direct Credit, begin by contacting your

PSP

. Every

PSP

that is a member of the Bacs Direct Credit Scheme has a complaints procedure. To find out about it, ask a member of the

PSP

s staff or look on the PSPs website. Your

PSP

should be able to resolve your problem however, if you are not satisfied with the way in which your complaint has been handled, you can refer to the Financial Ombudsman Service (FOS). Details of how to complain to the FOS can be found at www.financial-ombudsman.org.uk/consumer/complaints.htm.
As the organisation with responsibility for the Bacs Direct Credit Scheme, please be aware that we cannot advise on contractual issues between you and the organisation; we are only able to advise on matters relating to the Bacs Direct Credit Scheme rules. With regard to any dispute with your PSP, as per above, this should be referred to the FOS.
Please note that we do not have the powers to adjudicate on disputes or overturn decisions made by FOS or your PSP.
Complaints handling process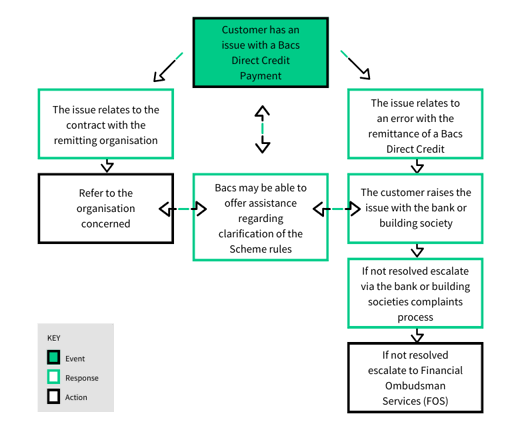 Contacting Bacs
Email: servicedesk@bacsservices.co.uk
Phone: 0370 165 0018* - The helpline is available 9.30am to 5pm Monday to Friday except for Bank Holidays.
* Calls to this number will cost no more than calling a geographical 01 or 02 number in the UK, it is also included in BT's calling plans (inclusive minutes) other networks may vary.
Dealing with your complaint
We aim to deal with your complaint promptly, nevertheless response times may be impacted by factors outside of our immediate control, for example because of non-availability of information or access to parties we might need to contact.
We will acknowledge your complaint within two working days of receipt, advising whether we can assist you. If we agree to progress your complaint, we will conduct an initial investigation.
Following our investigation, we may require further information from you and will contact you as soon as we are aware of the details. Once our investigation is complete we will write to you with our conclusion.
If you contact us because you are not satisfied with our conclusion, we will acknowledge receipt of your communication.
We will then consider the points you have raised and respond as soon as we are able.
Should we disagree with the points you have made, we will respond explaining why. This will be our final correspondence with you, and we will regard your complaint as closed.